anna.aero helps Flybe open its latest base at Doncaster Sheffield; announces new route to Düsseldorf
On 24 March Flybe opened its latest base at Doncaster Sheffield Airport, opening up routes to eight destinations across the UK and Europe including Amsterdam, Alicante, Berlin Tegel, Faro, Jersey, Malaga, Newquay, and Paris CDG. On the same day as the inaugural departures, the carrier announced that it will add a ninth route from the airport to Düsseldorf. This service will commence in October with a promised four times weekly frequency. Along with the news of the new route to Düsseldorf, services to Berlin Tegel will be increased to daily. While speaking to Steve Gill, MD Peel Airports, anna.aero's Assistant Editor Jonathan Ford also managed to find out that a tenth destination will be announced shortly. As a direct result of Flybe's investment at the Yorkshire airport, an additional 500,000 seats will now be on offer per annum from the gateway.
During a conversation at Vilnius' Radisson Blu Skybar in March at this year's CONNECT conference, Ford was warmly invited to attend the inaugural departure of Flybe's new services by the airport's Aviation Development Manager, Declan Maguire, and Head of Aviation Development, Chris Harcombe. Of course anna.aero's roving reporter took up this opportunity and was soon on his way up the M1 to Yorkshire. On approach to the airport, Ford managed to use the new motorway link road, the Great Yorkshire Way, which connects the airport to the M18. The road, which opened a few weeks ago, has opened up the facility to a catchment of six million people who live within an hour's drive of the airport.
Welcome to Yorkshire Flybe!
anna.aero meets Vincent Hodder, Chief Revenue Officer, Flybe
During the morning's events, anna.aero's Assistant Editor, Jonathan Ford, managed to catch a moment with Flybe's Chief Revenue Officer, Vincent Hodder. Hodder has been at Flybe since December. Before taking up his position at Flybe, he had worked in the following positions: VP of Strategic Development, TACA International Airlines (now part of Avianca); GM of Network & Strategy, Jetstar Airways; Executive Manager, Strategy, Jetstar Airways; Executive Director of Jetstar Japan; and CCO of VivaAerobus.
anna.aero: "The big news for Flybe today is that it's starting based operations from Doncaster Sheffield. Recently we have seen that Flybe has been expanding from airports including Cardiff, Exeter and Norwich, airports that have been quite stagnant during the past few years in regards to growth. What has attracted Flybe to expand from these markets?"
Vincent Hodder: "Well I think that Flybe is in a unique position. We are the largest regional carrier in Europe and indeed the largest in the UK. We fly to more airports in the UK than any other airline and with Flybe's smaller aircraft, we are able to make efficient, high frequency routes profitable and viable where really the passenger demand is too small for low-cost carriers to be able to do so. We are very clear that our success going forward is knowing we are not an easyJet with smaller aircraft, but truly accepting that Flybe is regional carrier providing regional connectivity to underserved parts of the UK and Europe. So these airports, places like Norwich, Cardiff and Doncaster Sheffield, which have largely been overlooked by our larger competitors, provide a perfect opportunity for Flybe to serve."
aa: "Recently in UK aviation we have had the discussion of APD (Air Passenger Duty) and how it affects the UK market. anna.aero knows that there is a discussion that APD tax prices can be decided regionally by local governments, for example Scotland and Wales will be able to control their APD tax prices. With this possibility, how does that impact on Flybe's growth going forward in regards to where the airline is most likely to expand from within the UK?"
 VH: "It's a pretty simple set of economics, the lower the ticket price the more people want to travel. Now to charge £13 per passenger on a domestic UK service is very short loose. There is a competitive distortion of the transportation industry. People who are driving on the roads and who take the train do not pay it, the people who are travelling by air do. So it artificially increases the price of a one-way domestic fair in the UK by £13. Now if you take away that APD tax it then automatically takes away £13 from the price of an air ticket and more people will be attracted and want to travel by air. Now what's really important underneath this is about more people travelling, because what does that mean for the UK regional economy? £1 of direct investment in aviation has a seven times multiplier effect on the local economy, so for every £1 invested in aviation, £7 is invested into the local economy. So every one of those people who is travelling, particularly travelling for business and equally for leisure, it's contributing to the creation of new jobs and greater spending in the local economies of the UK. Now for large cities, particularly London and Manchester, they have so much business, and such a core of operation that maybe they can afford to charge £13 per person, but when you are talking about small regional economies, places like where we are based in Exeter, there are smaller business that need any help that they can get to improve the chances of their business being successful. Applying this tax on people and companies that are trying to travel intra-regionally to do business is just preventing the economy from growing. That's Flybe's real opposition to it. It is a regressive tax that prevents the economy of the UK from growing. In relation to future growth we want to grow from all areas of the UK and indeed increase the carrier's European presence."
aa: "We have recently seen the Regional Air Route Development Fund be set up by the UK government to support carrier on routes that are considered essential, but are risky for carriers to start. One of those that was under consideration and has now been announced by Flybe is between Dundee and Amsterdam. What are the benefits for Flybe in starting these routes from a business point of view?"
VH: "The regional air connectivity fund is in my opinion is a fantastic initiative by the UK government. It is a recognition of the fact that regional aviation in the UK has been in decline for the last several years. It is a difficult and challenging business, I mean British Airways has pulled all of its routes to Europe from regional airports in the UK over the last 10 years. As those larger carriers have withdrawn from this market it has left the regional cities struggling to develop business and trade links. The fund has given us financial support over a three-year period which allows us to open new routes where the initial risk of operating may have been too high, preventing us from going it alone. It gives us the ability to start something that we are interested in but we are not 100% sure that the route is going to be successful during the longer term. When the support ends after three years we hope to have been able to build the route to a level that makes it profitable and is able to support itself. We strongly applaud the government for the initiative. Flybe remains the only airline that has opened routes that were supported under the original application. I think 11 routes were under consideration originally for the fund mandate. Flybe was issued five of those and we have published four of the routes which will start in S16."
aa: "A bold move that we have seen by the airline during the past few weeks is that it's going to start its first intra-regional European flights from Hannover to Milan Malpensa and Lyon. What is the decision by flybe to make this move into connecting European cities outside of its current key UK market?"
VH: "It's all about the long-term growth story. Flybe is a dominant carrier in the UK, we are the largest domestic airline in the UK. When you exclude flights to/from London, more than every one-in-two passengers on a UK domestic flight is travelling on a Flybe aircraft. The scope for the airline's future expansion domestically, why there is still growth for us in the UK, is that it's not a large opportunity, it's a select opportunity. So for us to think about major growth opportunities going forward, Europe, with a highly fragmented regional airline network, and a large number of routes that are less than 400 miles long with relatively little competition, that's the real growth opportunity for Flybe. These flights from Hannover to Milan and Lyon are really Flybe's first experiment in what do we need to do to successfully build our brand in Europe, and to successfully launch intra-European operations. So it is a test bed if you like for future European expansion."
aa: "Will aircraft be based in Hannover?"
VH: "We already have operations from Birmingham and Manchester to Hannover from the UK. If I take the Manchester route, which is involved in this process, what we have effectively done is add an additional aircraft to that Hannover rotation. The second aircraft will provide a w-pattern out of Hannover, so the aircraft will be based in Manchester, and there will be two aircraft to flow through the pattern."
aa: "We know that Flybe has an agreement with other carriers to operate white label services, the most recent with SAS. What are the benefits to Flybe in operating services for other carriers?"
VH: "We currently have two partnerships for white label flying, one with SAS and the other with Brussels Airlines. These are really allowing Flybe to take advantage of the fact that it has a very good operational model and excellent scale, which allows it to operate these flights for airlines which do not specialise in smaller aircraft, and to do so in a way which is profitable for us and profitable for the other carrier. This is a very interesting business for us going forward, it is something we would be very open to continuing to grow going forward. The SAS operation has grown very successfully since Flybe started operating for them last year."
aa: "In regards to the next 12 months for Flybe, is there anywhere in the UK where you could see the carrier opening its next base? Or is there any existing markets with greater growth potential?"
VH: "Most of our aircraft for the next 12 months are already allocated. The carrier has much earlier than usual opened reservation for the winter timetable. Why we do have some unallocated aircraft capacity left, it probably would not be sufficient to open a new base in the UK within the next 12 months, but we do have new aircraft coming into the fleet within the next year and we are actively looking at where we can base those new aircraft right now."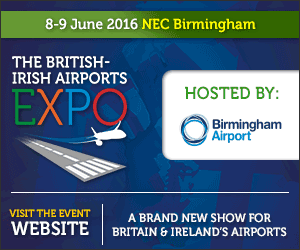 Saad Hamaad, CEO of Flybe, the UK's leading regional airline, will be speaking at The British-Irish Airports EXPO, a conference hosted by Birmingham Airport at the NEC Birmingham from 8-9 June 2016.
The free to attend event will also host the biggest exhibition of its kind in Britain or Ireland, as well as a Gala Party and guided tours of Birmingham Airport's facilities. The two-day event is expected to attract more than 130 exhibitors and in excess of 1,000 aviation executives.
Visit www.airports-expo.com for more details and to register for your free pass.