Qatar Airways is welcomed to Birmingham
On 30 March Birmingham welcomed its second MEB3 carrier when Qatar Airways inaugurated services to the UK's second city from its Doha hub. Qatar Airways joins Emirates to become the second MEB3 carrier to serve the airport, with the latter carrier having upped its presence at the airport this week by introducing A380 operations on its lunchtime service from Dubai. Services from Doha will initially be operated eight times weekly with Saturday seeing a double-daily operation. Birmingham becomes the fourth UK destination for Qatar Airways, with the carrier already serving Edinburgh, London Heathrow and Manchester.
The past 18 months have been very successful for Birmingham, with it welcoming 11 new carriers and a wealth of new destinations starting in February last year when Icelandair commenced services from Reykjavik/Keflavik, a route which will see its frequency increase later this year. American Airlines in May commenced daily services to New York JFK, complimenting United Airlines' daily New York Newark operation. Within the European market the airport has welcomed Norwegian (five routes), Wizz Air (six), Iberia Express (one), Vueling (three), Blue Air (one), VLM Airlines (one) and as of next month Czech Airlines will begin a five times weekly operation to Prague. Last year also witnessed Hainan Airlines operate a series of charter flights to Beijing which proved to be very popular.
During a conversation at Routes Asia in Manila in March, Ford was warmly invited by Tom Screen, Head of Aviation Development, Birmingham Airport, and William Pearson, Aviation Development Director, Birmingham Airport, to attend the inaugural ceremony of Qatar Airways' arrival. Of course anna.aero warmly accepted the offer and its roving reporter, Assistant Editor Jonathan Ford, was soon on his way to Birmingham, an airport which broke the 10 million passenger mark for the first time in 2015.
anna.aero meets Paul Kehoe, CEO of Birmingham Airport
anna.aero: "Today we have seen a significant moment for the airport take place in welcoming Qatar Airways, however we have seen a lot more happening at the airport recently. During the past 12 months the airport has welcomed 11 new carriers. What's next for Birmingham? "
Paul Kehoe: "It has been a very busy week for us here and it has been a unique time for Birmingham in welcoming so many new routes and carriers. On Easter Sunday we welcomed Emirates' A380 services on its lunchtime departure. Iberia Express launched services to Madrid as well and yesterday we welcomed Blue Air from Bucharest. We have managed to get these new services into the airport and they are proving to be successful. We have done a brilliant job in marketing these new routes and we hope that the Midlands' economy is buoyant enough to support them. Of course we are just one end of a route, we have done our fair share in marketing, we just hope the same is happening at the other end of the route as well. Looking to the future, today Ryanair has announced a 30%+ increase in its winter capacity and a brand new route to Sofia. Yesterday Norwegian celebrated its one-year anniversary by announcing further services on its route to Malaga and Vueling will launch operations to Alicante and Tenerife South in the summer, so it's not just nice to see new markets joining the Birmingham network, but also to see our existing markets grow so well."
aa:"Over the past two years we have seen the airport host serveral charter flights to Beijing. In 2013 China Southern Airlines ran a series of three return flights while last year Hainan Airlines commenced a short series of twice-weekly returns. Has the airport got anything in place for this year?"
PK: "We are hopeful that we are very close to securing a carrier that will be in place this summer to operate to China. One thing we do know is that if it is a charter operation you can pretty much guarantee that you'll fill the aircraft."
aa: "Would this service be to Beijing? Or could we see more points in China served?"
PK: "I am confident that we will see more than just a Beijing service this summer."
aa: "The long-haul market from Birmingham has picked up recently with the airport welcoming two long-haul carriers within the space of a year, both of which are oneworld members. How is the outlook in welcoming more long-haul airlines to Birmingham?" 
PK: "The long-haul market is interesting to watch from Birmingham. If the route is heading eastwards, we can fill it. Whether that is Emirates, Qatar Airways, Turkmenistan, Pakistan International, Air India or Turkish Airlines, you can guarantee a high load factor. Heading in the opposite direction it's trickier, and that is because we are facing so much competition from London Heathrow where there is 30+ flights a day. We are seeing developments in that market though. American Airlines launched JFK last year and between it and United Airlines' New York Newark operation they are both achieving an 80-85% load factor. That's not to say we are not making progress in that market. Aer Lingus have improved their connections through Dublin and passengers can take advantage of using pre-clearance immigration in Ireland, while Icelandair is increasing its services to Reykjavik/Keflavik with great onward connections to the US and Canada. So at the moment in all markets things are looking good for Birmingham."
aa: "You mentioned previously the growth of Norwegian and Vueling, both new carriers to the airport last year. How are they both performing from Birmingham?"
PK: "Norwegian was the largest new carrier to operate from Birmingham last year and they have been successful. It carried 125,000 passengers during its first year of operations to Barcelona, Madrid, Malaga, Gran Canaria and Tenerife South, and we are confident there will be more growth from them at Birmingham in the near future. The same for Vueling as well, which recently put on sale a new route to Tenerife. Vueling is great for Birmingham as it helps with our IAG strategy. In the past 12 months we have welcomed Vueling, Iberia Express, Qatar Airways, which has a stake in IAG, and Aer Lingus as an existing operator. Along with American Airlines as well it has helped grow and develop oneworld from Birmingham. This time last year we did not have a oneworld carrier and now we have multiple which is great for the region, as it means more choice for passengers. It has helped as well to bring the British Airways flight code back to Birmingham."
aa: "There you have mentioned the return of British Airways' flight codes to Birmingham. We know that they have had quite a substantial operation at Birmingham in the past. Alex Crux of Vueling is to start in his new position as CEO of British Airways in the next few weeks. He has done well in expanding Vueling's operations to the UK regions from Spain, which has helped grow the British Airways flight code to those regions. With him now joining BA could we see their own metal return to Birmingham?"
PK: "Alex Cruz is an excellent choice for British Airways and I am sure that he will bring success to them like he has done at Vueling. BA is a different product to Vueling so it is hard to give an answer to that question, however he is a sharp operator and a wise guy who I know well, and I'm sure he will be great at the company."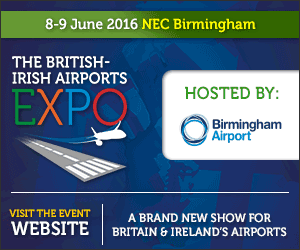 Birmingham Airport will welcome the UK and Irish aviation community to The British-Irish Airports EXPO, a free to attend celebration of airport excellence taking place at the NEC Birmingham from 8-9 June 2016.
Paul Kehoe, CEO, Birmingham Airport will join a line-up of fellow airport and airline CEOs, along with department heads in a conference chaired by Neil Pakey, CEO, Shannon Airport.
The British-Irish Airports EXPO will also host the biggest exhibition of its kind in Britain or Ireland, as well as a Gala Party and guided tours of Birmingham Airport's facilities. The two-day event is expected to attract more than 130 exhibitors and in excess of 1,000 aviation executives.
Visit www.airports-expo.com for more details and to register for your free pass.